Kontaktirajte nas
Telefon
Аустрија
Tel.: +43 732 257700
Kontakt
Rado ćemo odgovoriti na vaša pitanja.
>Kontakt
03.06.2022
Manufactured in just 15 days: special intake manifold for a Porsche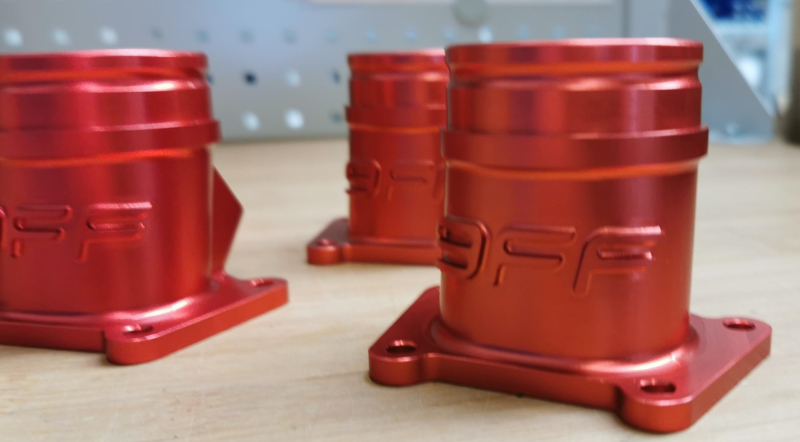 Tuning specialist used "Real Time Manufacturing Service" (RMS) for small series

Easier, more reliable, more accurate and faster is hardly possible. With the
"Real Time Manufacturing Service" (RMS)
we offer the possibility to calculate and order small series of turned and milled parts online with our competence center for drawing parts in Velbert.
9FF German Engineering has just found out that these are not empty promises, but on the contrary that even record times are not a problem. As a well-known name in the high-class tuning industry, the Porsche GT3 needed a modified intake manifold that, compared to series products with larger intakes and outlets and a smooth, flow-optimized duct, should allow fresh air to flow more easily from the carburetor into the combustion chamber.
Less than 100 intake manifolds with a height of 70 millimeters and a width at the bottom of 79 by 91 millimeters, plus a highly complex geometry and requirements that a sports car with more than 1,000 hp entails - looking for someone who can implement this, "We finally came across the RMS online portal from Bossard," says Jacek Dziuba, engineer at 9FF: "We registered, uploaded the 3D data of the intake manifold and specified the input. And indeed: We received a price offer in real time."
With simpler turned and milled parts, an automatism would have been set in motion until delivery, but due to the specific, also design requirements (after all, the extraction nozzle is for a Porsche GT3), Christopher Winkler now intervened.
Our Business Development Manager: "The intake manifold could only be manufactured using 5-axis CNC machining, which, in addition to highly qualified personnel in CNC programming, also required high-end manufacturing expertise, maximum precision and system availability." In addition, the end products should be red anodized for style and corrosion protection.
Maximum pace

While Porsche is known for top speeds on the road, we and our manufacturing partner also really put our foot down. After just 15 working days from placing the order, the intake manifolds were delivered to the 9FF headquarters in Dortmund on the promised delivery date and in the desired quality.
Christopher Winkler: "RMS offers our customers the advantage of making their further processes plannable and reliable - a decisive plus, especially in more complex productions, which also has a positive effect on costs."
In any case, Jacek Dziuba and the 9FF team are convinced and "will certainly fall back on RMS in similar situations".
Further information on the Real Time Manufacturing Service (RMS) and the registration form can be found on our website under the following link.
Subscribe to KVT Newsletter now and stay updated with our latest product and service highlights!