Kontaktirajte nas
Telefon
Аустрија
Tel.: +43 732 257700
Kontakt
Rado ćemo odgovoriti na vaša pitanja.
>Kontakt
07.09.2021
PEM® S-RT: the new free-running locknuts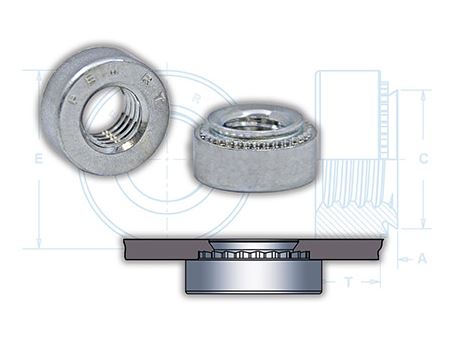 Inside the new type S-RT PEM® self-clinching lock-nuts a specially-optimised thread pitch makes sure of particularly easy screwing processes. The screws can revolve freely in the thread until a specific force is applied. As soon as this is reached, the special geometry of the lock-nut comes into play. The screw is then held firmly over the entire length of the thread – even when exposed to vibration and after being screwed and unscrewed numerous times. Thanks to these properties, the PEM® SR-T is especially suitable for lasting installation in thin aluminium and steel sheet from 0.8 mm thick. The self-clinching lock-nuts are available in sizes from M3 to M6 as well as for a range of different sheet thicknesses.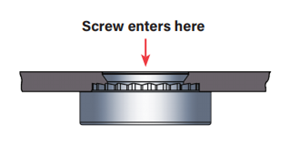 Advantages
Screw turns freely until a clamp load is applied
Resistant to vibrational loosening
Back side of panel is flush or sub-flush for screw installation
Locking feature reusability is not affected by number of on/off cycles
Uses same mounting hole and installation tooling as standard Stm nut fasteners found in

PEM®

Bulletin CL
Installation
Prepare properly sized mounting hole in sheet. Do not perform any secondary operations such as deburring.
Place fastener into the anvil hole and place the mounting hole (preferably the punch side) over the shank of the fastener as shown in diagram.
With installation punch and anvil surfaces parallel, apply squeezing force until the head of the nut comes into contact with the sheet metal.

For best results we recommend using a Haeger insertion press for installation of PEM® self-clinching fasteners.
Are you interested and would you like advice from our experts?

We are happy to provide you with advice and assistance and advise you quickly and competently. Please contact us.

> Contact us now