Kontaktirajte nas
Telefon
Аустрија
Tel.: +43 732 257700
Kontakt
Rado ćemo odgovoriti na vaša pitanja.
>Kontakt
27.08.2021
New Design Engineering Service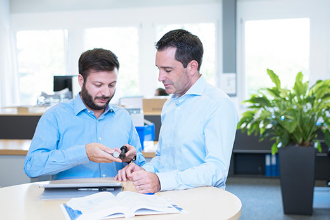 Expert design begins with product development

Focus on fasteners in order to avoid late mistakes - the earlier, the better

Are the joints secure? Do the screws withstand the loads "in use"?
Which fastening element is best suited for the planned construction?

All of these are questions that, according to Christopher Winkler, cannot be asked early enough when developing or customizing a product or machine.
Our Business Development Manager Specials "If you pay attention to the fasteners late because" it's only about a screw ", you end up paying a higher bill because the result is incorrect or there would have been a better alternative.

With our Engineering Service Expert Design, on the other hand, the necessary quality is ensured during product development and the costs of the connection including assembly are assessed. "
Lightweight construction as a motor in product development and fastening technology
With extensive expertise in fastening and assembly technology and specially tailored tools, our engineers are at your side in the early development phase of series products and custom-made products - in order to select the best connection element from the extensive product range for the application and to design it if necessary.
"With material recommendations, technical drawings and prototypes, we help avoid errors in advance that would add up in the end," says Winkler.
Focus on lightweight construction and sustainability - two big topics for us. Expert Design ensures that products are designed and manufactured in the required quality, reliability and economy (keyword "Total Cost of Ownership"), because according to our Business Development Manager Specials, "the early involvement of our know-how and experience is the guarantee for this that the end product can be lighter and more sustainable than might be hoped for ".
Wherever traditional fasteners no longer meet the standards, we offer new approaches and innovative alternatives.
Expert Design combines fastening technology with a sustainable future
"It's about our customers having a reliable partner who, as a specialist in connection and assembly technology for product developments, provides valuable and very individual input right from the start, which has a positive effect on the end product - in terms of innovation, future viability, Sustainability, quality and costs ", is how managing director Gernot Schmidt finally gives the direction for KVT-Fastening AT / CEE.
Are you interested and would you like advice from our experts?
We are happy to provide you with advice and assistance and advise you quickly and competently. Please contact us.

> Contact us now
Further information about Expert Design service:

> to the website