Kontaktirajte nas
Telefon
Аустрија
Tel.: +43 732 257700
Kontakt
Rado ćemo odgovoriti na vaša pitanja.
>Kontakt
18.10.2021
New offer: Smart Factory Assembly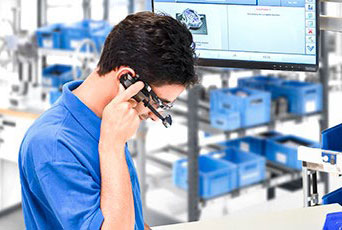 The digital transformation of assembly

Smart Factory Assembly paves a particularly pragmatic way for manufacturing companies towards Factory 4.0. The new offering from our engineering specialists ensures interactive networking of employees, machines and products at digital assembly workstations.
The use of state-of-the-art technologies such as touch screens, projection onto the work surface, gesture control, data goggles with Virtual Assistant enables all work steps to be mastered at all times, even with complex products. Continuous documentation ensures the traceability of all production steps, which significantly increases both process reliability and productivity in production.
Remo Gander, Business Manager Smart Factory Assembly, comments: "Due to its complexity, industry 4.0 is often too abstract for many companies and cannot be applied to their own production environments. This is precisely where we come in with Smart Factory Assembly: We support production companies in the networking of assembly in order to obtain a uniform process that guarantees the quality and safety of the manufactured products".
Bossard Smart Factory Assembly is currently available in three versions, depending on the customer's requirements:
1. Smart Fastening (consulting, intelligent connection tools, quality database)
2. Smart Assembly Station (previous one supplemented by Intelligent Tools and Aids, Digital Assembly Instructions, Production Statistics)
3. Smart Factory Assembly (previous one supplemented by networked assembly system, connection to ERP, complete system integration).
All are essentially based on a combination of the following four core elements:
Digital and interactive assembly instructions make it possible to master the complexity of all product variations and make changes even during production. The digital assembly instructions are visualized directly in production via touch screens, data glasses or projectors. The assembly employee is guided step by step through the assembly process and work steps are automatically evaluated and documented. Depending on the product and the employee, it can be freely decided to what extent the system should intervene in the assembly process.
Digital and programmable tools and aids are increasingly finding their way into the assembly process. However, these must also be networked and specifically controlled, read out or even parameterized at the right work step. With Smart Factory Assembly, all relevant assembly equipment, including intelligent screwdrivers and riveting devices, pick to light, presses or measuring equipment, can be networked for interaction with the system.
The traceability of the quality data takes place at product or order level. If, for example, screwdrivers are controlled, the screwdriving-relevant data - such as angle of rotation, tightening torque or screwdriving time - can be stored. In addition, target values for screw connections can be specified and visualized with the aid of a screw curve. The data material is available for analysis and documentation at any time.
Continuous process improvement is made possible by quick analyses of cycle/work times, utilization of assembly stations, throughput times, output per workstation or employee and the error rate. Due to the gained transparency, optimization potentials can be recognized more quickly and better.
Cooperation with a German partner
For the constant further development and implementation of Smart Factory Assembly, we rely on a strong cooperation partner with many years of experience in the digitization of assembly processes: Armbruster Engineering, headquartered in Bremen, Germany, has its own agile software and hardware development department, which enables it to implement individual customer requirements quickly and efficiently. Armbruster Engineering has already implemented numerous projects in Europe and Asia.

Would you like to know how your assembly can be digitalized pragmatically?
I will gladly take the time to talk to you!

Christian Lehner
Tel: +43(0)732 257700 86
c.lehner@kvt-fastening.com