Kontaktirajte nas
Telefon
Аустрија
Tel.: +43 732 257700
Kontakt
Rado ćemo odgovoriti na vaša pitanja.
>Kontakt
22.10.2020
Join the free webinar and get a chance to win 1000 EUR service voucher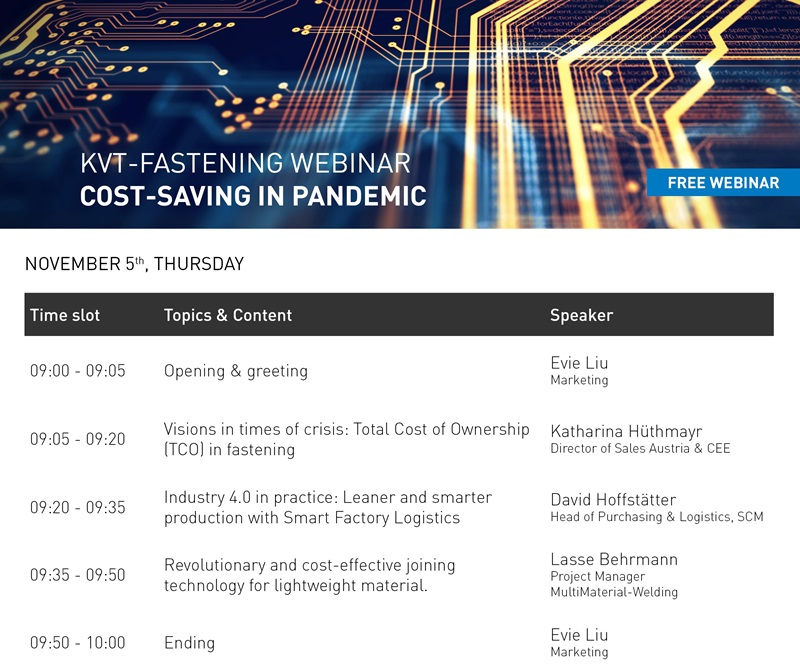 2020 has not been an easy year for many companies. How to reduce costs and survive through the pandemic has become a key lesson everyone should learn.
To support our partners and friends, we are holding a free webinar on Thursday, November 5th, to share our insights for potential cost-saving during the pandemic.
We sincerely invite you to join our 1-hour free webinar and possibly to win a free service voucher worth 1000 EUR by subscribing KVT newsletter.
Join the prize draw by Monday, 9th November!

You can find the service details we offer for the 1000 EUR voucher here.
> Sign up for the newsletter and join the prize draw for winning the 1000 EUR service voucher!