Kontaktirajte nas
Telefon
Аустрија
Tel.: +43 732 257700
Kontakt
Rado ćemo odgovoriti na vaša pitanja.
>Kontakt
10.11.2020
Haeger insertion machines exclusively available from KVT-Fastening - Interview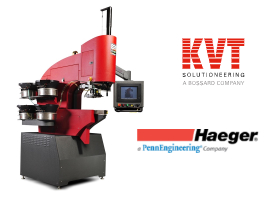 In October 2018 KVT-Fastening announced the exclusive distribution of the insertion machines from Haeger with immediate effect to take over. The specialist in fastening technology has thus succeeded in offering its customers a high-performance machine program for processing PEM® self-clinching fasteners in addition to their in-house fasteners .

About two years later, Andrew Middelton, Sales Manager at Haeger, Thilo Kerler, the machine technician in charge at KVT-Fastening, and Roland Dreja, Product Manager Automation and Tools at KVT-Fastening, talk about the strategic cooperation between the two companies and the opportunities and added value of Haeger insertion machines.


An interview with those responsible at KVT-Fastening and Haeger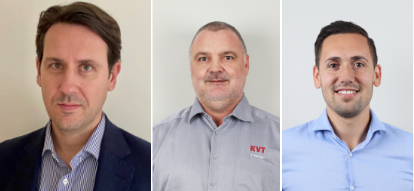 Andrew Middleton, Sales Director for Technical Service, PennEngineering
Thilo Kerler, Technical Service, KVT-Fastening
Roland Dreja, Automation & Tooling, KVT-Fastening

Question: Mr. Dreja, as a technical sales representative for Automation & Tooling at KVT-Fastening, you took over the exclusive sales of Haeger insertion machines around two years ago. Time for a first conclusion: How did the cooperation with the Haeger company develop?

Answer: We are very satisfied with the development of the partnership - the exclusive sale of the insertion machines from Haeger has made a useful addition to our portfolio in a crucial area. As an expert in fastening technology, we now have the opportunity to offer our customers a high-performance range of machines in addition to high-quality PEM® self - clinching fasteners . Our customers are consistently positive about this portfolio expansion and appreciate the tailor-made approach.



Question: Mr. Middleton, as Sales Director at PennEngineering, you played a key role in the exclusivity agreement with KVT-Fastening. What were the decisive reasons for working with KVT and what is your conclusion today?

Answer: As one of the leading developers of innovative insertion machines, it is very important for us to always offer demand-based, individual and tailor-made solutions for the market. We therefore specifically looked for a collaboration with one of the best-known suppliers of PEM® self-clinching fasteners . This cooperation allows us to offer the customer a complete solution consisting of an innovative insertion system and high-quality fastening elements. The partnership with KVT enables us to gain access to a new target group and to provide customers with a technically perfect solution.



Question : Mr. Dreja, what specific added value do you see in the insertio machines from Haeger and how can you use this added value to address new customers?

Answer: The insetion machines from Haeger fit perfectly into our portfolio. Our delivery program includes a wide range of different PEM® self-clinching fasteners : From threaded bolts and bushings to self-clinching nuts to fasteners and special solutions, we offer our customers solutions for a variety of challenges in fastening technology. Thanks to the exclusive sale of Haeger insertion machines, we can now also offer a suitable, multifunctional machine program - the customer receives a tailor-made solution from a single source and benefits from time savings, increased quality and reduced costs.



Question: Mr. Kerler, at the Illerrieden site you have been offering practical insights into insertion technology since last year - those interested can even test and operate the Haeger insertion machines themselves. What strategy are you pursuing with this offer ?

Answer: We would like to show manufacturing companies in a practical manner which new possibilities arise through the use of the multifunctional Haeger insertion machines in terms of highly flexible production. For this reason, we have completely assembled the machines in Illerrieden and set them up ready for use. Our customers can test different PEM® self-clinching fasteners and get to know the properties of different materials. The use of customer-specific workpieces is expressly desired in order to map the customer's production environment as realistically as possible.



Question: How did the customers accept the offer and what, in your opinion, are the most important unique selling points of the Haeger insertion machines?

Answer: We have found that we are going exactly the right way with setting up the machines at our location. The customer appreciates the opportunity to get an idea of the press-fit machines for himself and to discuss specific applications with our experts on site. From my point of view, the multifunctionality of the press-fit machines is particularly crucial: Thanks to the modular design, the machines can be individually adapted to the needs of the customer, thus paving the way for highly flexible production.

Let's take the 618 MSPe model as an example: this insertion system impressively proves the reliability and efficiency of a hydraulically driven machine. Depending on the requirement profile, the customer can equip the machine with numerous optional functions. The spectrum ranges from a fixed stop system through an automatic feed system to a TIS turnstile for processing up to four different insertion elements (1x automatic and 3x manual) in one production process. The 824OT model can also automatically feed four different self-clinching fasteners via a magazine changer . In a personal conversation with the customer we have the opportunity to respond to individual needs and work out the technically perfect solution.



Question : Mr. Dreja, apart from the practical test environment in Illerrieden, how do you approach potential customers in order to market the Haeger insertion systems?

Answer : We work very customer-oriented in sales and concentrate on developing tailor-made solutions for individual challenges. For this reason, we usually first carry out an extensive needs analysis and benefit calculation for the customer. As part of this analysis, we find out exactly where the shoe pinches and which requirements the insertion system should meet. Based on this information, we then work out the best solution in terms of area of application, economy and efficiency.



Question : How do you imagine working with Haeger in the future and how would you like to strategically develop your activities?

Answer : With the close cooperation with Haeger, we have presented ourselves in the industry as a competent partner for trends and solutions in connection technology. Through the exclusive sale of insertion machines, we bundle unique competencies along the value chain. We would like to continue on this path in the future and provide the customer with tailor-made options for a wide range of fastening technology tasks. We see ourselves not only as a seller of machines, but rather as a highly competent provider of holistic solutions.



Do you have any questions about the Haeger machine program, would you like expert advice or would you like to have an individual benefit calculation?
> Contact us now

You can also find more information about the Haeger product portfolio on our Haeger brand page .